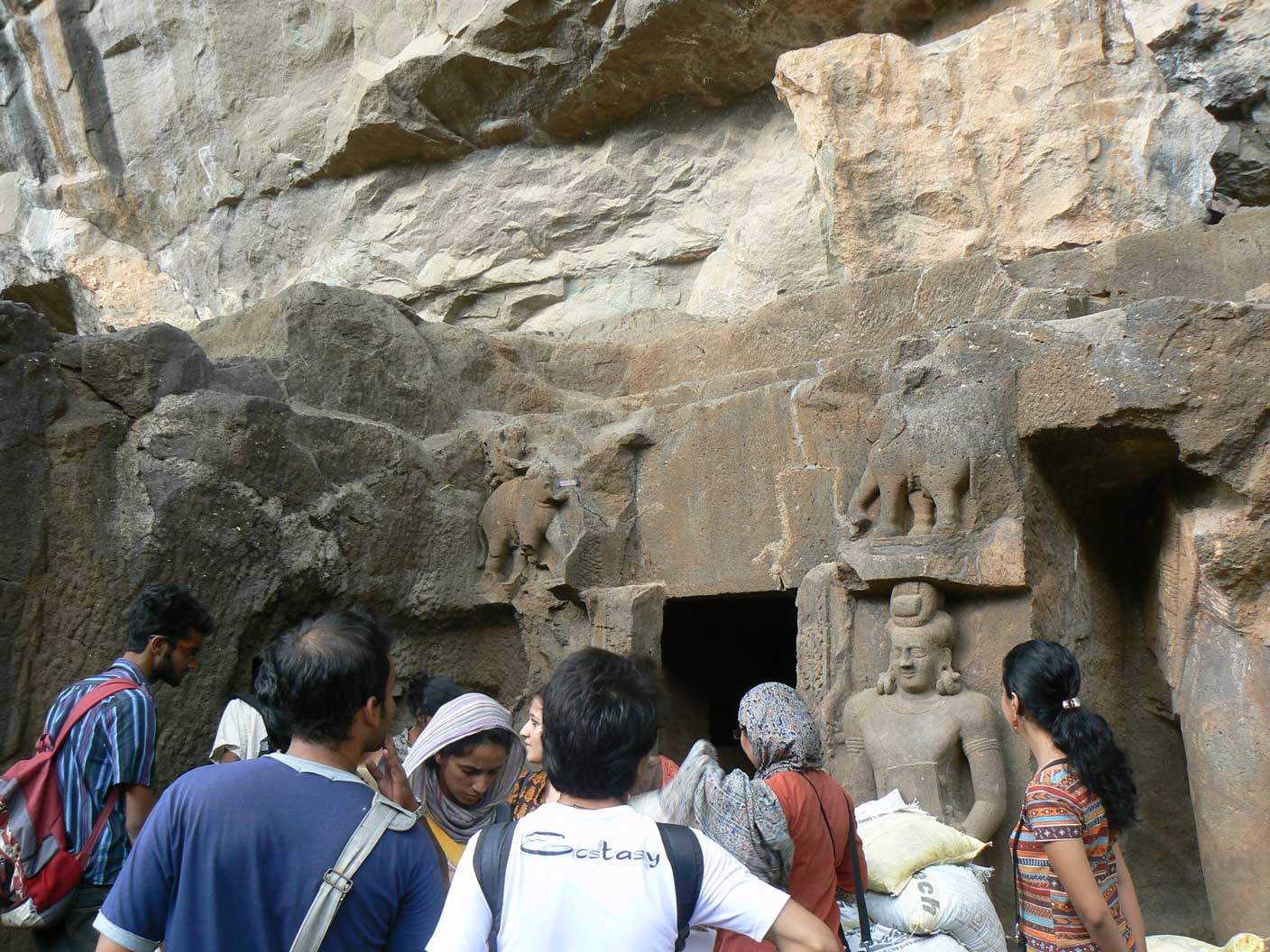 IMG_20190414_141712370_HDR
Like it was on a certain Magha Purnima Day in the ancient times when 1250 monks had spontaneously gathered to listen to the Buddha's First Sermon, it was on the Day of 4th June 2019 when there took place a spontaneous gathering of four art historians, and one educator, filmmaker and entrepreneur.
There was no pre-conceived idea or agenda. Yet, the gathering resulted in the birth of this project. It was decided that it should be a non-profit, scholastic, movement by a select group of art historians, thinkers, and other specialists who wish to contribute to the cause of creating the building blocks for advanced research on the rock-cut monuments. In the next few days, the idea was shared by three other art historians, and they too joined the movement.
All of us are presently volunteers to help the cause of the scientific documentation, research, learning, and education about the caves, their arts, architecture, and history.
As and when a funding resource becomes available, the volunteers would work as fellows, senior fellows, associate fellows, or junior fellows. Each will have a task and duty to carry out. A tentative format is given below:
Rajesh Kumar Singh | principle investigator & academic director
Consulting art historian, Ajanta caves research programme, Dharohar foundation, Secure Meters Limited, Udaipur, India.
Son of a late subsistence farmer, Singh holds an undergraduate, a postgraduate, and a PhD degree in Art History. He has a specialist interest in the rock-cut monuments of India with a focus on the Ajanta caves. He is a practitioner of fundamental science and inter-disciplinary research.
Singh has published three monographs and 19 research papers in peer-reviewed journals. He has compiled one CD-Rom and produced five videos on Ajanta. He is a member of the Indian Art History Congress, Indian Archaeological Society, and the British Association of South Asian Studies.
https://orcid.org/0000-0003-4309-4943
Himanshu Desai | editorials & interim project director
Himanshu Desai holds two masters degrees – one in Art History from MS University of Baroda, Vadodara, India; and the other in Creative Practices for Narrative Environments from the Central St. Martins College of Art and Design , London, UK. He is an artist, curator, musician, and a former senior business analyst (Government of Ontario, Canada). Currently he offers educational, learning and development programs to various universities and institutes in India. He is also involved in social work and philanthropic initiatives.
Gauri Wagenaar | liaisons & outreach
Gauri Wagenaar has more than 25 years of creative thinking in the Netherlands and India. Trained initially in the History of Art, she has lived in two cultures and speaks six languages. She has combined academic teaching with nuts-and-bolts advocacy to bridge the differences between corporate cultures. Over an adventurous career, she has applied herself to producing dictionaries, paper restoration, designing informatics and assisting with exhibition designs. Her greatest challenge has been to establish and run the Dutch Govt. trade office in Ahmedabad for 15 years, in reality going much beyond trade to supporting the Embassy's departments. In so doing, she has built networks across industries and taken on leadership roles, advising several non-profits and serving on educational boards. Passionate, vocal, and an activist, she finds inspiration in the idea of "learning by doing" and in thinking pragmatically, using the creative impulse to bypass bureaucratic bottlenecks in both private and public sectors.
Deven Oza | media & communications
Deven Oza is an educator, filmmaker and entrepreneur. Having about 16 years of experience in the area of visual communication and storytelling, he has performed various roles from Animator to Project lead. He is currently the founder and proprietor of Studio KarmicAge – a boutique studio dealing with animation and film-making. His core interest lies in exploring various visual mediums that enable storytelling in unique and entertaining ways.
Aarrti Zaveri | liaisons & outreach
Aarrti Zaveri is a Delhi based multidusciplinary artist who is keenly interested in urban, ecological and environmental topics. She was the recipient of the Most Prominet Artist Award in Seychelles Biennale 2017. She is also the Vice-President of a Delhi based training and research organization 'TREES'. She has participated a number of times in the "The Global Nomadic Art Project", which is a travelling nature art residency organised by a Korean art organisation, YATOO. Aarrti is an active member of the Artist In Nature International Network (AININ). She has recently completed a Senior Fellowship Research Project from Government of India.
Sandeep Joshi | field surveyor & module curator
Sandeep Joshi is a practising artist and art historian. He holds a master degree in Art History and Aesthetics from M. S. University of Baroda. His area of specialisation is the patronage of arts in the erstwhile Baroda State of the Gaekwads. His interests also includes the fields of modern, folk, and tribal arts of Gujarat. He has curated art exhibitions, and participated in many group shows, workshops, and seminars.
Snehal Tambulwadikar-Khedkar | field surveyor & module curator
A freelance art writer, art critic, and art historian, Snehal Tambulwadikar-Khedkar is a Visiting Faculty of Art History and Aesthetics at J. J. School of Arts, Mumbai, and as a Program Coordinator at Prafulla Dahanukar Art Foundation, Mumbai. She has completed her Graduation in Painting (Directorate of Art, Mumbai), in English literature (Pune University) and post graduation in Art history from MSU, Baroda. She has a number of publications, and has worked with partial editing of Jataka tales with Prof. Rajesh Singh in his Ajanta books. Presently in India, Snehal is working on a project named Kalapravasi Heritage Tours with the objective to create awareness and respect for the heritage of arts and culture in different parts of the country.